What is included in the free version?
- Support for NetFlow version 1,5,6,7 and 9.
- All available statistics - i.e. Top talkers, Applications, Interfaces.
- Low-level data traffic search.
- Interface utilization.
- Utilization maps.
- User and group management.
- Definition of own applications.
- Filtering and forwarding.
- Local, LDAP or external user authentication.
- 24 hours history.
- 250 flows/sec at maximum.
- 2 monitored devices at maximum
- Only for non-commercial use.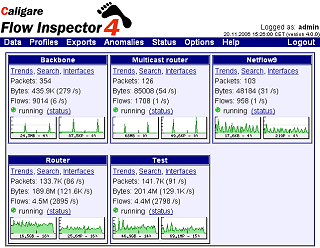 Figure: Caligare Flow Inspector - FREE Edition
(click for enlarge)
Consider upgrading to Caligare Flow Inspector Professional edition (1-9 devices) or Enterprise edition (unlimited devices) to add the following features:
- unlimited or 1-9 monitored devices.
- Long-term historical trends, not only last 24 hours.
- Network anomalies detection.
- Parsing NetFlow traffic without limits.
- You can use it in the commercial organization.

One year technical support on the FREE version can be online purchased.